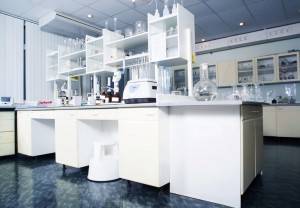 Our high qualified team of chemical engineers has the most modern laboratory equipment to their disposal. In close cooperation with our customers we develop products which meet the requirements of our clients. Besides the Research & Development, we have a strong test- and quality control department.
The quality of our products is strictly controlled by our test laboratory, which is fully equipped for all kind of tests. Our raw materials we purchase from the Netherlands and Germany. All incoming materials are subjected to stringent quality checks before storage.
We see it as our mission that every product that leaves our premises, has to fulfil the highest quality standards, in order that our client can achieve the best result.